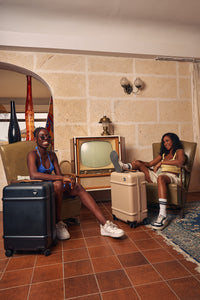 About our Products: 
The Portable Porter Company™ was originally established in 1948. The legacy has lived on for 70 years and the story today is alive more than ever. The Portable Porter Company™ combines heritage and quality engineering, to give our customers a high quality product. Our products are also rigorously tested by our manufacturers to ensure quality in each piece. 
In the unlikely case that you have developed a fault with our products please refer to the warranty terms and conditions below, you will also find guidance on how to make a claim. 
What is Covered
Your Portable Porter luggage is covered by our exclusive warranty and covers the repair of all of the functional aspects of your Portable Porter suitcase and/or your Portable Porter travel bag, including defects in materials and workmanship.
Our warranty covers manufacturing faults only and does not cover refunds beyond our standard returns period of 28 days. 
What is Not Covered
The Portable Porter Company™ cannot cover any damage which has been caused by cleaning or cosmetic wear. Nor do we replace stolen or lost luggage and their contents. 
The Portable Porter Company™ does not cover postage and packaging costs, nor will replace any parts due to fair wear and tear. Porter Travels will pay the return postage costs. Also due to exciting new designs, which many change the component parts of our luggage, our warranty does not guarantee colour matches and identical replacement parts. 
The Portable Porter Company™ will always make its best efforts to ensure your luggage is repaired and/or replaced to the nearest match as possible.   
Damage due to airline or general mishandling, abuse, accidental damage or inappropriate use is not covered by this warranty.
Please note when you pick up your luggage at the airport, always check carefully for damage, the airline is responsible for any damage caused but you must claim at the time the damage occurs or the airline will not accept responsibility.   
Only products purchased from Porter-travels.com directly or official stockists (Coming soon)  can be registered for our warranty
How long does this warranty Last
The Porter Warranty lasts for 3 years. 
Who is Covered
The first purchaser of Portable Porter is entitled to the benefit of the warranty, any claim must show proof of purchase. We do not warrant any second hand luggage.
How to Obtain the benefit of this warranty
In the unlikely events that you have a problem with your Portable Porter Luggage, please contact us at josh@porter-travels.com and your warranty claim should contain, proof, date and place of purchase and a photograph of the damage. Also an explanation of how the damage occurred. 
What Portable Porter Luggage will do
Portable Porter Luggage will acknowledge your claim and review the information you have sent. We will then contact you and if confirming that your claim is accepted we will send you the details of where to sent your Portable Porter Luggage for the repair to be undertaken, or alternatively we may have a trusted repair centre locally where you should take the luggage for repair. We may also, in the very unlikely event the luggage is beyond repair send you a replacement item.
We pride ourselves in our extensive quality control, each piece is comprehensively checked before purchase.     
What Portable Porter Luggage will not do
Portable Porter Luggage will not accept, under this warranty, any piece of luggage which, in our reasonable opinion, has not been reasonably used or has been abused in its use .
No other express warranty applies
Only the Portable Porter Luggage warranty applies and no other warranty.
Your Legal Rights
This extensive Portable Porter Luggage warranty does not affect your statutory rights under UK Law. 
Your rights under the Sale and Supply of Goods to Consumers Regulations 2002 and any other rights still apply. 
This Warranty is exclusive to Porter Travels Limited, a company registered in the UK, registered office 82 Camborne Road SW18 4BJ, London  and registered number 12727098.